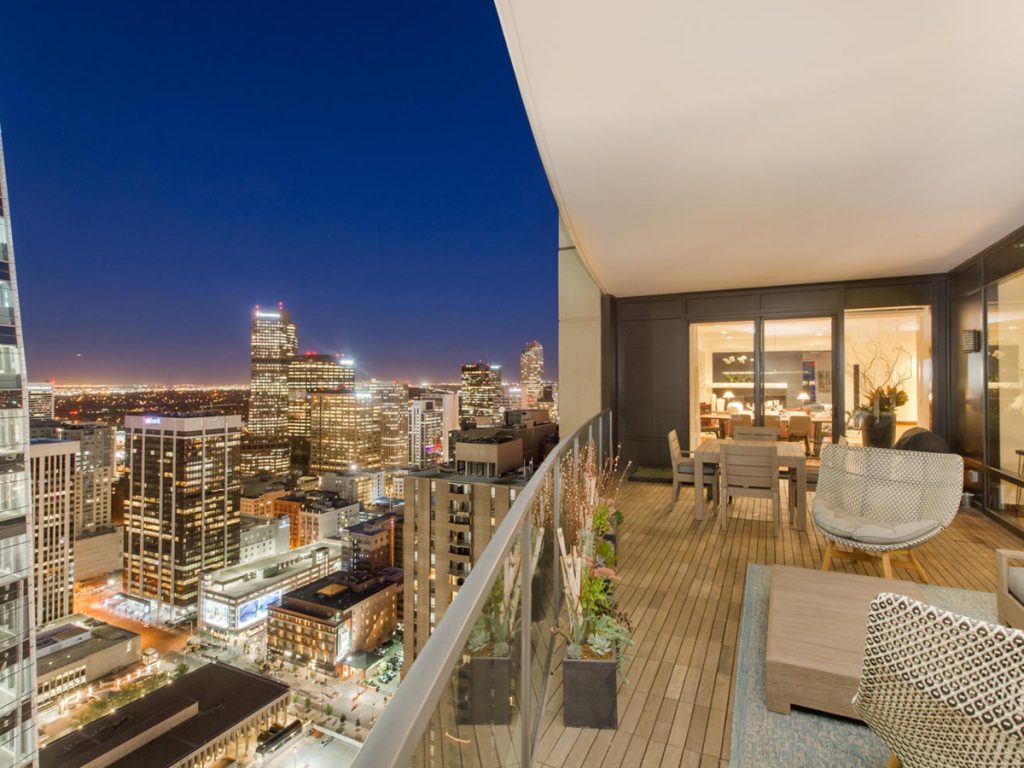 Situated atop the Four Seasons Private Residences, LIV Sotheby's International Realty is pleased to announce the opportunity to purchase not one, but two, of downtown Denver's most exclusive residences.
1133 14th Street, Flat 4100, and 1133 14th Street, Flat 3750, both feature a prominent footprint, boasting expansive living spaces and a host of luxurious amenities. e most unique aspect of this o ering, however, is that this opportunity for ownership gives buyers multiple choices when deciding which home type to purchase. Both residences are highly customized, while completely di erent in design, appealing to a variety of audiences.
Flat 4100 features three bedrooms, four bathrooms, and over 5,000 square feet of luxurious living space, t for an art collector. Featuring gallery walls and lighting and complementary design elements, Four Seasons Residence #4100 utilizes only the nest materials and accoutrements, appealing to those with ne artistic sensibility. is beautiful, one-of- a-kind living space is nothing short of world-class.
Flat 3700, with three bedrooms, three bathrooms, and nearly 5,000 square feet of living space, fully comprises one-half of an entire oor of the Four Seasons Private Residences building, and features expansive views of the downtown Denver skyline and cityscape, along with the entire Front Range, including Pikes Peak, the Boulder Flatirons and more.
With the recent surge in demand for luxury condominium living in Denver, these exclusive offerings mark a special opportunity to purchase two of the market's most in-demand, high-rise offerings.
"Being involved with nearly half of all the re-sales that have taken place in the Four Seasons, I have seen a tremendous amount of the units in the building," said LIV Sotheby's International Realty broker, Douglas D. Kerbs. Without a doubt, these two units represent two of the most highly customized ats ever to be made available for sale."
e thoughtful design of both residences is curated in almost every aspect. Interiors feature custom oor plans that includes beautiful nishes and a level of craftsmanship and detail that is rarely found. As an iconic point of interest on the Denver skyline, the residences both o er two spacious, private terraces, o ering both northern and southern exposure, for bright, open living.
"Having both units available for sale within the Four Seasons Private Residences provides the unique opportunity of seeing how one can achieve two distinctly di erent living experiences, but from within the same building," continued Kerbs. " is is yet another rare attribute that this dual opportunity for ownership provides."
Along with stunning views and luxurious nishes, both residences are a part of the Four Seasons family, meaning superlative amenities including access to the amenities only found at the world-renowned hotel: 24/7 valet, concierge, doorman services, outdoor salt water pool, state-of- the-art spa with hydro-therapy pools, two tness centers, 24-hour dining and catering service from EDGE Restaurant, housekeeping services and more.
Also located just steps away from the front door of the Residences is the city's best shopping, dining, theatre and entertainment o erings.
1133 14th Street, Flat 4100, Denver, is listed for sale by LIV Sotheby's International Realty for $6,945,000.
1133 14th Street, Flat 3750, Denver, also listed for sale by LIV Sotheby's International Realty, is priced at $4,745,000.
For further details on this exclusive o ering, contact LIV Sotheby's International Realty broker, Douglas D. Kerbs, at 303- 898-7818. To service all your real estate needs, call 303-893-3200 or visit www.livsothebysrealty.com.