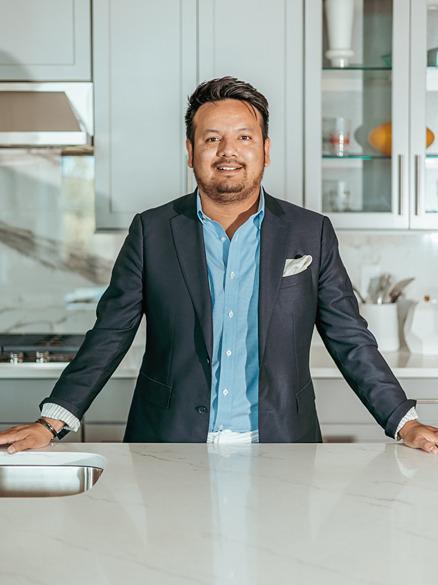 Dyllan Nguyen
Realtor
Fluent in English, French, Spanish, and Vietnamese
LIV Sotheby's International Realty
LIV Sotheby's International Realty
100 Saint Paul Street
Denver, Colorado 80206
Dyllan Nguyen lives life guided by a fundamental philosophy: don't wait for opportunities to be handed to you, instead, take charge and make things happen. This attitude serves him well in his successful real estate career, especially in competitive markets and fluctuating economic times.
Clients have a profound respect for Dyllan's can-do attitude and appreciate his propensity to think outside the box and work tirelessly to help them find their dream home. Never one to accept the belief that there is only one correct choice, Dyllan adeptly studies market indicators to identify up-and-coming neighborhoods to locate desirable homes in areas poised for growth and prosperity. This keen talent enables his clients to better understand future potential and realize greater long-term dividends. "I love introducing my clients to new areas. It's wonderful to watch their excitement and see them smile when they realize that what they're about to buy is taking them out of the status quo. It's all part of my belief that you have to live, and you have to keep growing," he says. "And no matter whether it's a first-time homebuyer or someone who has purchased numerous homes, the excitement is always there," he adds.
Dyllan is a rarity in his industry, possessing expertise in many areas such as consulting with builders on new developments to savvy marketing on homes that incorporate cutting-edge social media and technology, and a strong understanding of architecture and design. His approach is a well-defined mix of old-fashioned customer service and attention to detail, blended with strategic marketing built upon innovative social media platforms to maximize reach and exposure. Clients regard Dyllan as an influencer, a reputation garnered from his focus on staying up to date on what is happening in the metro area, and using his knowledge to inform and advise.
Always keeping his clients' interests front and center, Dyllan takes time to understand what they are seeking. In that capacity, Dyllan consults with clients before showing a home, introducing them to the neighborhood to help them better understand the area and the feeling it evokes. "People are buying more than just a home, they're buying a neighborhood," he explains. "It's so important that they grasp the whole picture, so that when they do make a decision, they can feel excited and optimistic." His strong dedication to ensuring clients have a wonderful experience from start to finish has resulted in countless repeat and referral business.
Dyllan is widely recognized by clients and colleagues as a well-respected agent. He is consistently ranked in the top 10 percent of realtors in Colorado. He is actively involved in furthering the industry and has served as a past president and founding member of the Denver chapter of the Asian Real Estate Association of America (AREAA). In addition, he actively supports the Colorado Pet Food Pantry and the Congress for New Urbanism. In his free time, he and his wife Theresa enjoy traveling, wine tasting, trying out Denver's new restaurants, and spending time with their Wheaten Terrier, Ellie.