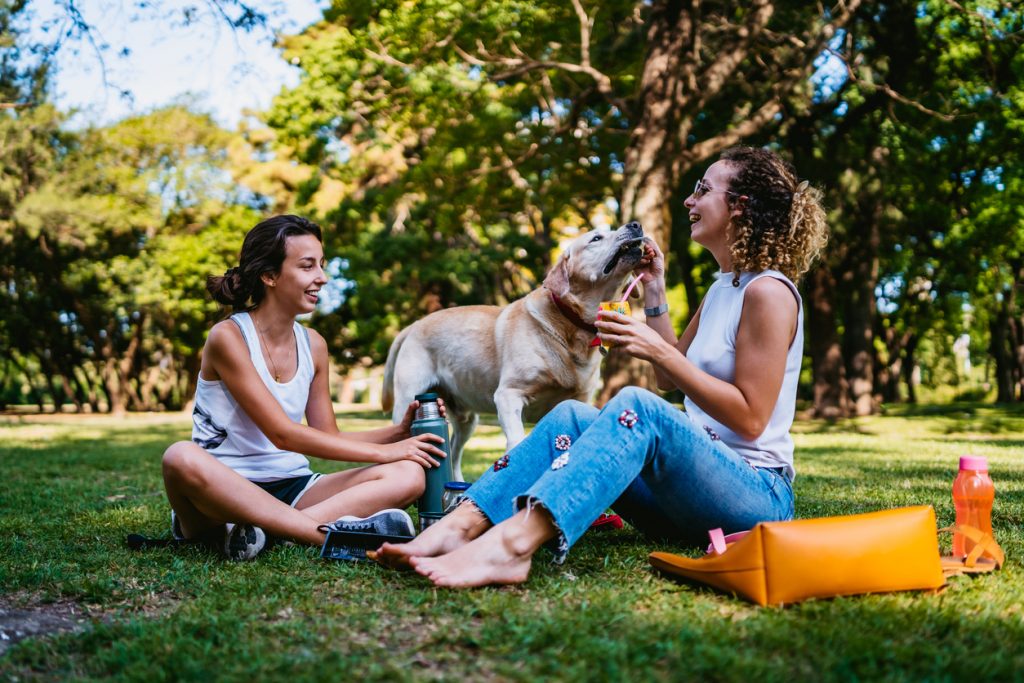 Bring your dog to Denver! If you are traveling or moving to Denver, Colorado, rest assured your furry companion will be welcomed with open arms. Rated the 9th most dog-friendly state in the US, Colorado is known to be a great place for dog owners with the perfect blend of outdoor adventures and pet-friendly venues. Denver, especially, has a vast landscape of dog-friendly activities, restaurants, bars, parks, hotels, and public spaces.
You and your dog will be greeted with a smile, and you're sure to meet many other dog owners on your walks around the city. Read on as we explore some dog-friendly activities and attractions in Denver that you will surely enjoy with your furry friend.
Why Denver is So Welcoming to People with Pets
If you are an animal lover, you will love living in Denver. This cheerful city is a magnet for people who love nature in all its forms, especially our tail-wagging best friends. Denver is an enthusiastic dog-friendly city and every new pet owner adds to the love we share.
In warm weather, you will often see well-behaved dogs chilling with their owners and doggy friends on the terrace dining all over the city. In fact, there are more dog parks than you can count, spanning every Denver neighborhood.
With a robust outdoor culture, dogs also typically get plenty of exercise not just in the city, but in the parks and mountain trails that surround our beautiful urban center.

Best Spots for Dog-Friendly Activities in Denver
1) Visit Denver's Many Dog Parks
You can always identify a dog-friendly city by the number of dog parks in the neighborhood, and Denver has a ton! If you're looking for somewhere for your dog to get some great exercise with other dogs where you can chill in the shade, there are a dozen popular dog parks to choose from.
Denver dog parks are also well-kept. In fact, they have many great features like dog-height water fountains and play areas by dog size for ideal socialization. Here are some local parks that you and your furry companion can check out and enjoy dog-friendly activities together:
Willow Dog Park
Fuller Dog Park
Greenway Off Leash Dog Park
Lowry Dog Park
Kennedy Dog Park
Berkeley Dog Park
Carla Madison Dog Park
Barnum Dog Park
Rail Yard Dog Park
Little Boxcar Dog Park
2) Three Dog Bakery
Denver is also home to one of the world's dog-only bakeries. Three Dog Bakery specializes in delicious and healthy treats baked just for your dog. There are cookies, biscuits, churros, pup cups, and cakes. Each looks good enough to be human treats but is made with dog-friendly ingredients. Three Dog Bakery is the perfect place to treat your pup, and the number one spot in Denver to get a doggy birthday cake.
3) Forest Room 5
Are you looking for a cool hangout after enjoying dog-friendly activities in Denver? As one of the best pet-friendly garden seating in the city, you simply must check out Forest Room 5. This unique local bar and lounge features a beautifully chill indoor-outdoor design with great cocktails and tasty snacks. The outdoor garden area feels like a real forest. It also features a relaxed campfire vibe including firepits, pebble paths, and leafy foliage for your dog to prance around. There's even a paperback novel vending machine in classic Colorado style.
4) Lazy Dog Restaurant & Bar
There are a few different Lazy Dog locations around the outskirts of Denver, and each one is awesomely pet friendly. The Lazy Dog menu actually offers hamburger patties and chicken fillets with veggies & rice just for dogs so that you and your furry friend can enjoy a nice meal together on the terrace. We also think the menu is truly spectacular, ranging from saucy ribs and everything-burgers to healthy skillets.
5) Cherry Creek State Park
Dog parks and patio dining aren't the only spots for dog-friendly activities here in Denver. Right nearby, you'll find Cherry Creek State Park, a beautiful expanse of thick trees, hiking trails, and home to the Cherry Creek reservoir. In fact, this is a great place for dogs and their humans to adventure and explore, sharing many marvelous natural sights and smells.

6) Rocky Mountain Hiking Trails
To the West of Denver, you will find an endless landscape of mountains and forested hiking trails. There's the Lair o' the Bear Park, Mt. Falcon Hiking Trail, William Frederick Hayden Park, Lookout Mountain Park, and so many more. If you and your dog love to hike, Denver is the perfect city because there is no end to new trails and breathtaking adventures to explore just a short drive away.
7) Go for a Swim Together
Denver is also a great place for dog-friendly water activities. In fact, there are even a few dog-friendly pools in the area. For indoor swimming, check out the K9 Body Shop with an indoor pool for dog recreation and physical therapy. For outdoor swimming, head to one of the many natural watering holes like the Union Reservoir, Chatfield State Park, or Westminister Hills.
8) Bigsby's Folly Craft Winery & Restaurant
Where can you sip wine with your refined pup and lounge in the fantastic Colorado Sun? At Bigsby's Folly. This classy yet casual winery invites a blend of ancient brick and beam architecture with glittering chandeliers and conversation-circle seating. In addition to wine and craft, Bigsby's Folly is a well-known dog-friendly venue with terrace seating and even features a dog as the face of the company. You can also join the Growler's Club and show off your dignified dog at this truly great local hotspot.
9) Woofhaus Dog Daycare Center & Wash
Denver is also a great place to board your dog, should you need to fly solo. There are many awesome doggy daycares around the city, and one of our favorites is the Woofhaus. This awesome facility has a manicured outdoor playground with fun obstacles and kiddie pools for outdoor play and an equally cool play area indoors.
10) Kimpton Hotel Monaco Denver
If you are looking for a hotel to stay with your dog in Denver, there are several good options. At the top of the list is the Kimpton Hotel Monaco Denver. This hotel doesn't charge extra for a dog, cats are allowed if you're a multi-pet household, and they are known for superb service for both people and pets.

Discover Denver with Dyllan Nguyen
Denver is a fantastic place to live for dog owners and animal lovers in general. Whether you are visiting for a weekend or considering moving to Denver and looking for the perfect neighborhood to share with your pets, don't hesitate to reach out! Dyllan Nguyen is deeply rooted in the city of Denver and can help you discover everything you need right here in our urban mountain paradise.
Get inspired and experience the many wonderful dog-friendly activities and attractions that Denver has to offer. Contact us today!